Wondering how to verify property title in India? In the current scenario, it is very easy to verify property titles as most of the states in India have digitized land records. With just a click, a citizen of India can access the details of an individual owning property along with its transaction history.
Also read
The digitization of land records has turned out to be a major boon for both property buyers and sellers in India. Before purchasing a property, it is important to scrutinize all land records to avoid the possibility of fraud. Hence, with all the states' support, the Indian government has made it easier to verify property titles online.
Go through the post to learn why searching Title is critical and how you can conduct an online title search in just a few clicks. Let us start with learning what Title Search is.
What is a title clearance certificate?
A title clearance certificate is issued for a particular property by solicitors and advocates after finding out the legitimacy of ownership and encumbrances. The issuance of a title clearance certificate provides the following information:
1. Nature of the title of the promoter
2. Nature of the title of vendor or of the person from whom the claim is presented
3. Claims and encumbrances related to the land or property
4. Steps to be followed for clearance of title and making it legally marketable
5. Defines if the owner of the land will be legally bound by the flat sale agreement or not
6. Clearance of doubts regarding nature of vendor or promoter
How to check if the property has a clear title?
Here are a few aspects you can ask from the seller or property owner to check if the property has a clear title:
1. Check the title papers in detail. A lawyer can be hired for the purpose for this purpose. The presence of a clear title shows no disputes linked to the property
2. Bank approvals also ensure that a property is away from any encumbrances and disputes
3. The issuance of an encumbrance certificate will also verify title clearance
4. Make sure to tally the approved plan with the site
5. Check the property tax slips when you are interested in a resale property
Ensure that the seller has every document ready to prove title clearance and offer a sale agreement.
Also read
What Are Common Examples of Title Issues?
Numerous title problems can be uncovered when doing a title search. Some of the more common examples of title blemishes include the following:
Unpaid property taxes
IRS liens
Mechanics liens
Zoning violations such as a property line encumbrance
A forged deed
A disputed will
Divorce that is being contested
Also read
How to Conduct Property Title Search Online?
Here are a few simple steps you can take to conduct a thorough title search for your chosen piece of property.
1: Visit the official land records website of the state in which the chosen property is located.
2: Go to the Citizen Services section on the online portal.
3: Provide the location-related details of the property.
4: Mention the required details related to pricing, disputes, and legality of the property on the next page.
5: Click on the Submit or View button to check complete yout title search process.
Also read
Procedure to Conduct Property Title Search in Bangalore
Head to the official website of Land record of Karnataka (Revenue Department of Karnataka at bhoomi.karnataka.gov.in) and click on the View RTC Information option.

Bangalore Land Records Portal
Click on the Survey Number, Owner-Wise, or Registration Number option.
Enter the District, Taluk, Hobli, Village, Survey Number, Period, and Year.
Click on fetch details to view the property ownership details.
Also read
Procedure to Conduct Property Title Search in Mumbai
Login to the e-search portal at esearchigr.maharashtra.gov.in/ and login to it using your unique login credentials. If not create a new account.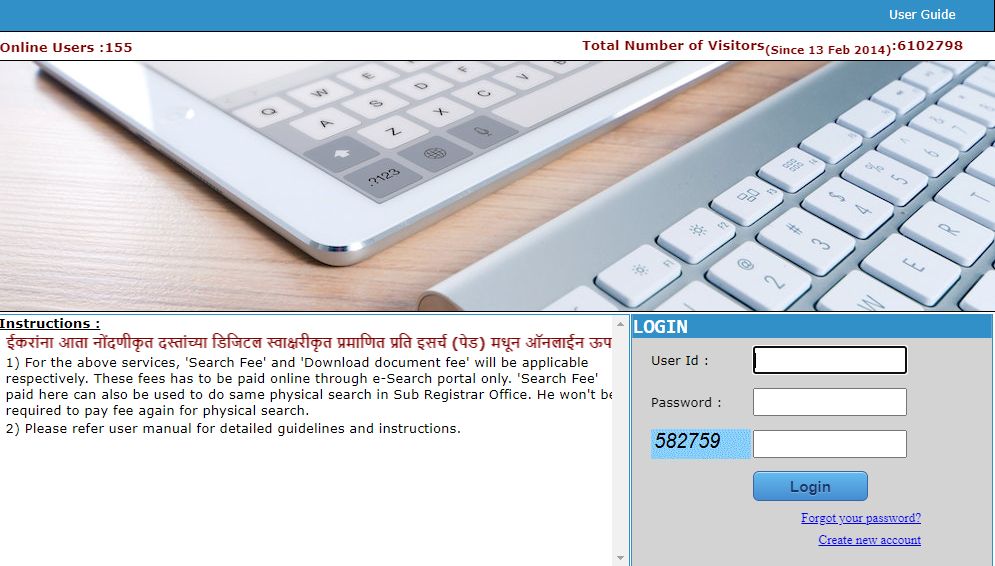 Mumbai Land Records Portal
Once you log in you can search either using Property Details or Document Number. To search with Property Details – enter the year, district, village, property number, and captcha.
Click on the View button.
To search with document number – enter the registration type, district, SRO, year, document number, and captcha.
Click on view to get the records.
Procedure to Conduct Property Title Search in Delhi
Visit the e-search website at delhigovt.nic.in in Delhi and click on Search by Name on the home page.
Fill in the details such as Locality, select either first-party or second-party and enter the first 3 letters of the party name and captcha.
Click on Search to obtain details.
Also read
Contact Scott Title Services Today
For over two decades, the Scott Title team has maintained a commitment to delivering the highest quality of service in the title insurance industry.
We provide our clients with an attention to detail they won't find anywhere else when it comes to title insurance services including property title searches, settlement services, and real estate paralegal services.