Remove Sun Tan Naturally- – માત્ર એક પેકથી મેળવો ચેહરાની ટેનિંગથી છુટકારો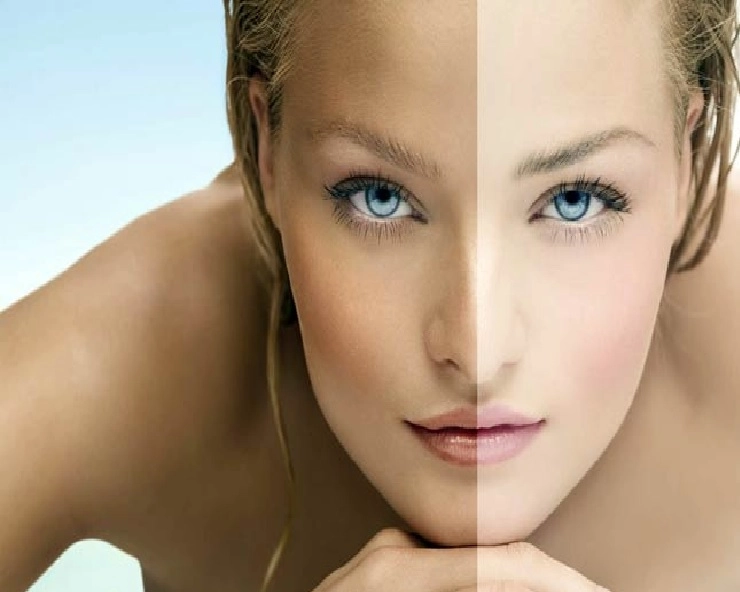 બ્યૂટી ટીપ્સ – ખૂબસૂરત ચેહરા મેળવાની ઈચ્છા દરેક કોઈની હોય છે પણ ખોટી ટેવ અને પ્રદૂષણના કારણે ચેહરાની ખૂબસૂરતી જાણવી નહી રહેતી. તડાકાના સંપર્કમાં આવતા જ સ્કિન કાળી થવા લાગે છે. આજે અમે તમને એક પેક જણાવી રહ્યા છે જેનાથી તડકામાં બળેલી સ્કિન અને ટેનિંગથી છુટકારો મેળવી શકો છો અને તમને મળશે બેદાગ ત્વચા .
જરૂરી સામાન
અડધા કપ ચોખા (ભાત રાંધેલા)
3 નાની ચમચી હળદર પાવડર
2 ચમચી દહીં
1 ચમચી મધ
મીઠું
વિધિ-
1. એક બાઉલમાં ચોખા, હળદર, મીઠું, દહીં અને મધ મિક્સ કરી પેસ્ટ તૈયાર કરી લો.
2. ધ્યાન રાખો કે ચોખાને સારી રીતે મિક્સ થઈ જાય તમે ઈચ્છો તો આ પેસ્ટમાં થોડું ગર્મ પાણી મિક્સ કરી વાટી પણ શકો છો.
3. આ પેસ્તને ચેહરા અને ગરદન પર લગાવો. સૂક્યા પછી હળવા ગર્મ પાણીથી ઉતારી લો.
4. દિવસમાં બે વાર આ પેસ્ટનો ઉપયોગ કરો. તેનાથી ચેહરાનો કાળપણ દૂર થશે.
1. Lemon Juice and Honey
Lemon aka our star ingredient is so acidic in nature that we wouldn't suggest applying it on its own, especially before stepping out into the sun, being photosensitive et al. Packed with ascorbic, glycolic and alpha-hydroxy acids this natural-bleacher exfoliates the superficial layer of the skin, undoing any kind of sun damage and darkening. Add a dash of honey (a natural humectant) to the lemon juice for best results, as it's known to be too drying. No wonder this combo is known as one of the best home remedies for face tan removal.
2. Yoghurt and Gram Flour
For effective tan removal at home, add Yoghurt to a spoonful of Gram Flour and combine them to form a thick paste. Apply the mixture all over your body and leave it on for 20 mins before hopping into the shower. The probiotic, healthy fat and lactic acid rich curd will cool off sunburn, soothe skin and hydrate it, while gram flour will gently exfoliate to reveal your natural glow. For plump, supple skin repeat this ritual daily for at least two weeks to completely fade your tan disappear.
ALSO READ
3. Tomato
Call it what you like, but this red fruit has a huge fan-following and for good reason. Rich in lycopene that acts as a natural sunscreen, it's choc-a-bloc with antioxidants that fight free radical damage. Redness, skin damage and darkening will soon be issues of the past. But the trick is you need to act quickly. Meaning, as soon as you set foot back home, slice a tomato in half, rub the pulp all over the affected areas and let its mineral complexes commence action.
4. Aloe Vera
Nicknamed the beauty elixir, this pulpy plant is the most versatile ingredient of them all. Scoop out the pulp from a freshly cut leaf and store it in the freezer up to a week. Or if you're lazy, dilute your stash with water and a few drops of your favorite essential oil (tea tree or lavender) for the concoction to last longer. The homemade tan removal pack will instantly reduce tanning, calm irritation, reduce redness and replenish the skin's natural moisture.
Also read
5. Raw Papaya
The cosmetic industry has placed this humble fruit on a pedestal since time immemorial. To reap the benefits of this all-in-one wonder, scoop out the pulp, mash and apply on your face, hands and legs or simply blend to make this tan removal pack at home. Papaya contains the enzyme papain that mildly exfoliates the outermost cell layer, improves skin texture making it more even, gets rid of pigmentation, banishes sun spots and de-clogs open pores.